Categories
Archive
4/14/2016
Building Signs in Omaha
EL DORADO
El Dorado mexican restaurant, located at 5134 S. 24th street, was looking to update their exterior signage from a wall sign to a unique neon projecting sign.
Signworks fabricated a 5'-0'' x 5'-0'' x 1'' deep double-face aluminum projecting sign cabinet with two 3/16'' deep lexan faces and vinyl overlay. The cabinet is LED illuminated, and the "El Dorado", "Restaurante Mexicano", and the red border are all outlined in colored neon.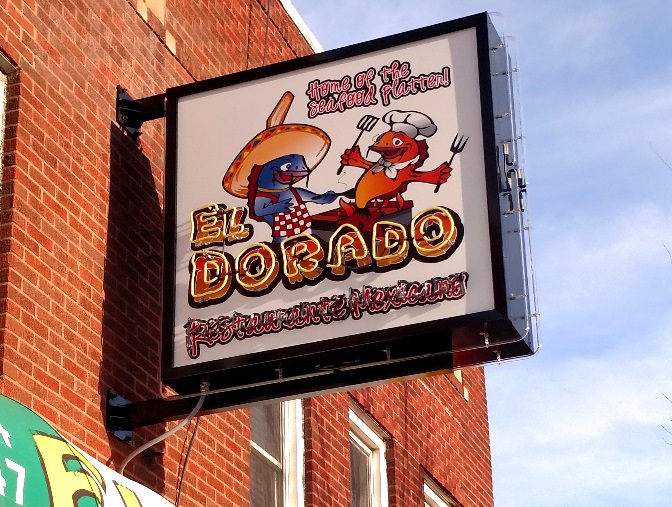 GIRL'S INC.
Girl's Inc., at 2811 N. 45th street, is being renovated on the interior and exterior. Signworks is assisting them with signage during this exciting time from flat cut out interior letters, a new monument sign, ADA signage and more.
Signworks fabricated a double-face LED illuminated monument sign for the south elevation. The 11'-10 1/4'' wide x 1'-6'' high x 8'' deep aluminum cabinet has a routed face reading "Katherine Fletcher Center" along with a 5'-1'' wide x 4'-10'' high x 3'-9 1/4'' deep routed aluminum face reading "Girl's Inc." that we installed on the existing base.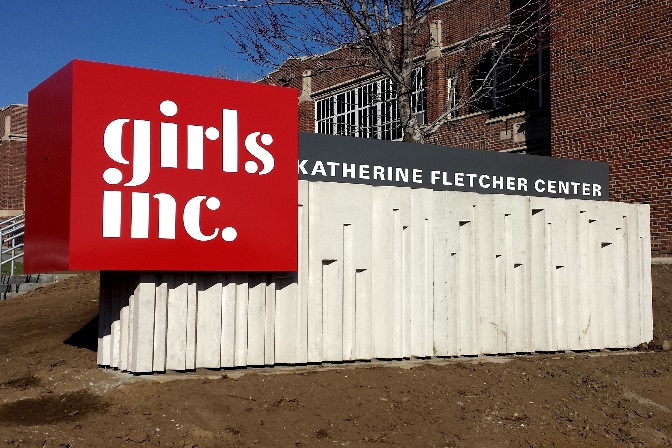 We also furnished various stainless steel flat cut out letters 3/8'' deep including "SHOPalicious" and "SNACKalicious".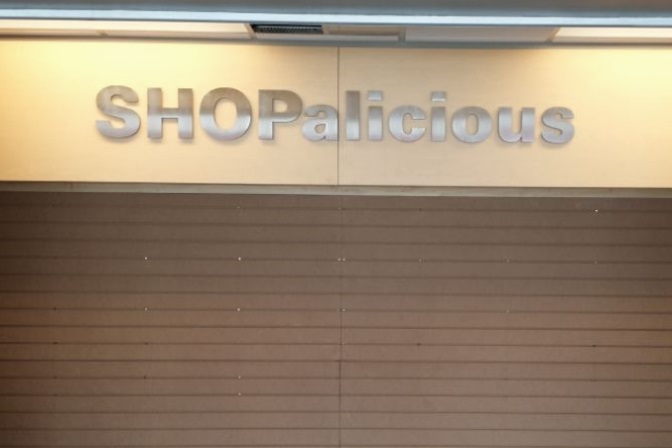 And we also furnished "SUZANNE SCOTT GIRL HUB" flat cut out letters along with cutting, painting and seaming together a perforated metal (mesh) material to fit over and into the existing wall.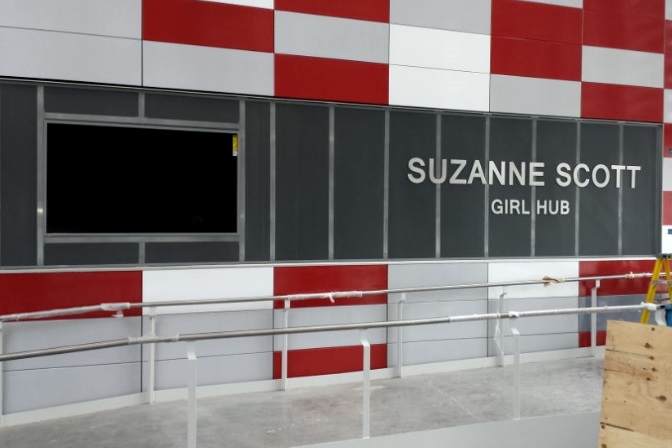 FAREWAY MEAT MARKET
Signworks is pleased to have partnered with Fareway Meat Market for three elevations of exterior signage work. Their new location at 8900 West Center Road is a prime spot for signage due to heavy on-going traffic, so they looked to Signworks for some unique ideas that would really pop to people that passed by.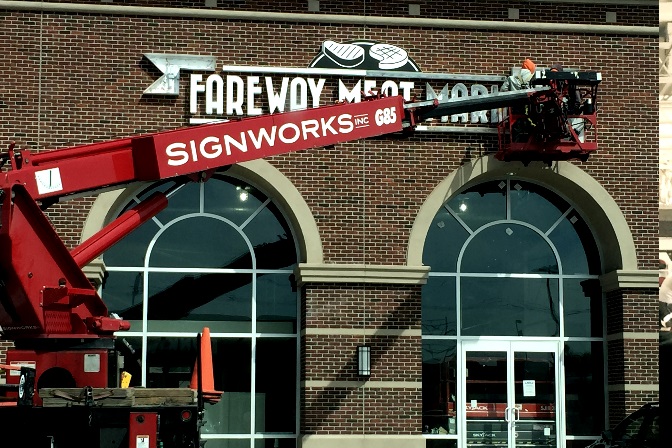 We fabricated two sets of LED illuminated trimcap channel letters for the west and south elevations.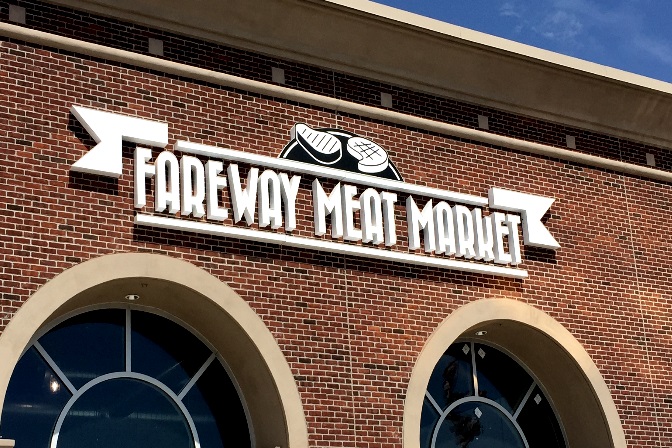 For the north elevation, we fabricated an LED illuminated channel logo with illuminated "Fareway Meat Market" channel letters on a 2'' deep painted bulletin panel.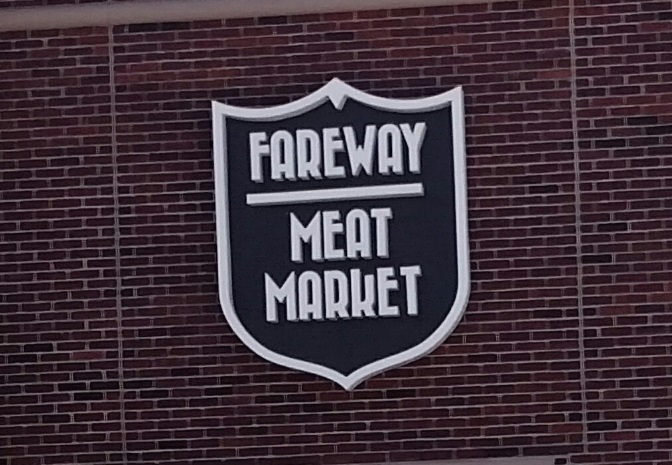 CROSSFIT OMAHA
Ready to get your fitness on? Try CrossFit Omaha at 89th and L. The new owner as of January 2016, Stacie Tovar, is impressively ranked 11th in the country in the world of crossfit.
Signworks removed the existing signage and furnished one set of 2'-0'' to 10'-0'' high x 1/4'' deep flat cut out acrylic painted letters mounted above the front entrance.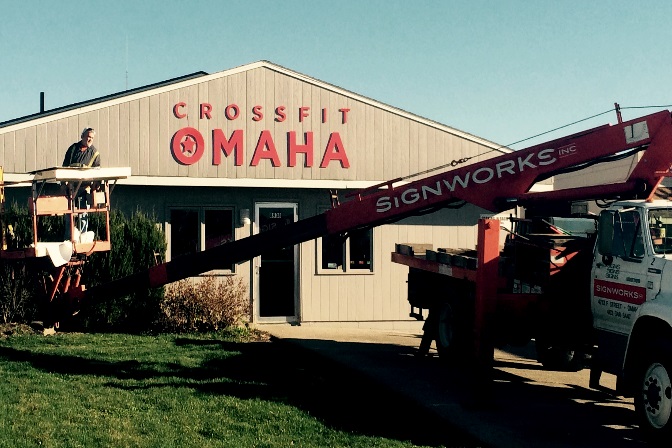 We also routed "CFO" in a piece of custom aluminum backed with LEDs which was mounted to an interior wall.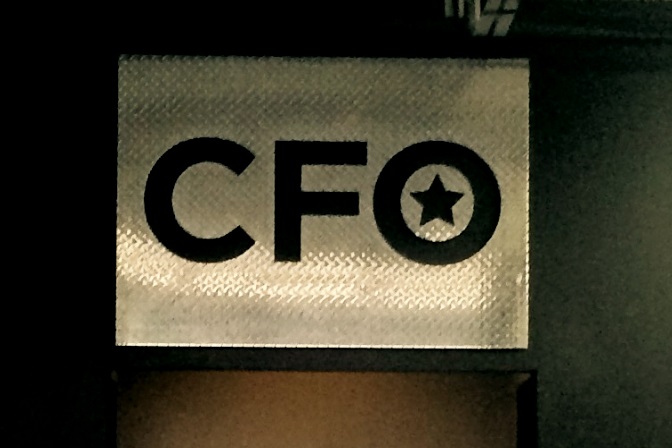 The finishing touch to their interior was vinyl graphics that we made and applied throughout.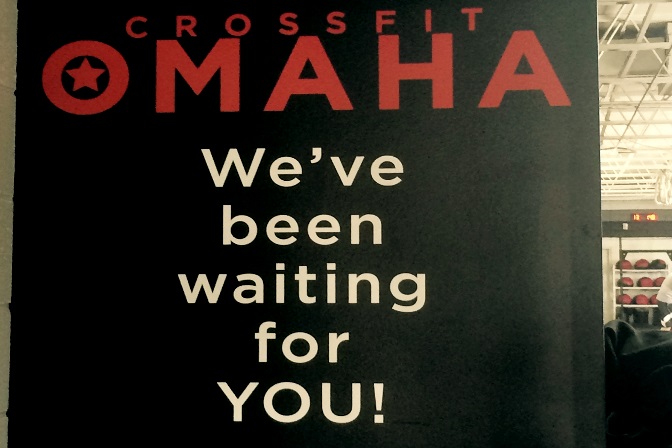 SPARTA
Looking for a great place to game in Omaha? Then Sparta, at 3352 N. 108th street, is the place for you.
Signworks fabricated two LED illuminated 3/6'' deep white acrylic faces with vinyl overlay for the existing double-face pole sign.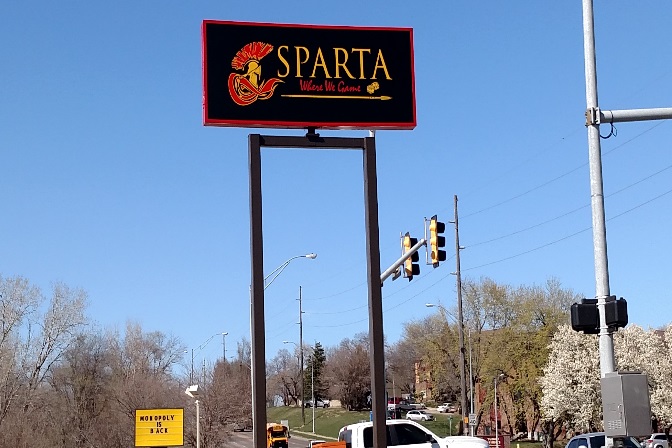 A 10'-0'' wide x 4'-0'' high LED illuminated wall cabinet with vinyl overlay was also fabricated for their east elevation.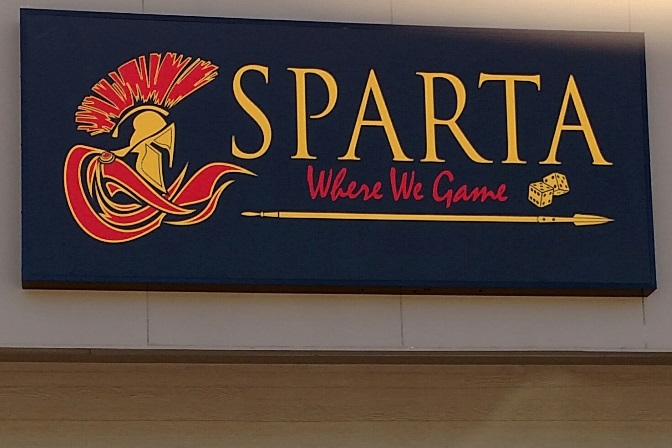 If you're in the market for new or renovated exterior or interior signage, call our sales team today at 402-346-5447. We're here to help your business stand out from the rest and bring your signage visions to life.
POSTED IN: BSO, Channel, Dimensional, Exterior, Illuminated, Interior, Monument, Neon, Non-Illuminated, Non-Profit, Projecting, Restaurant, Services, Vinyl