Categories
Archive
4/7/2020
Signworks at Creighton Prep
Maybe you've seen it - It's hard to miss and might be helpful when it comes time to lead students back to school. The Lannon Learning Commons and Bell Tower at Creighton Prep.
The new center is named after the Rev. Timothy R. Lannon, school president from 1988 to 1995. Lannon also served as president of Creighton University from 2011 to 2015.
The Lannon Learning Commons offers students and faculty a new collaborative space for studying, socializing and reflecting. It houses new administrative offices, including the school's main reception area, band and art classrooms, campus ministry, counseling and college prep offices, and a new study hall are all housed in the two-level addition.
The main entrance to the school has been moved from the east side of the building to the new Lannon Learning Commons, on the west side of the school.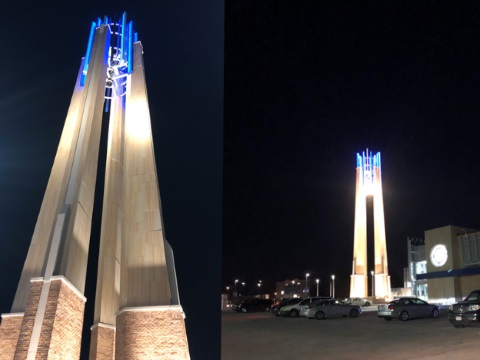 A 116-foot bell tower, illuminated with the school's signature blue, can be seen from miles away, and a welcoming plaza greets students, visitors and sports spectators.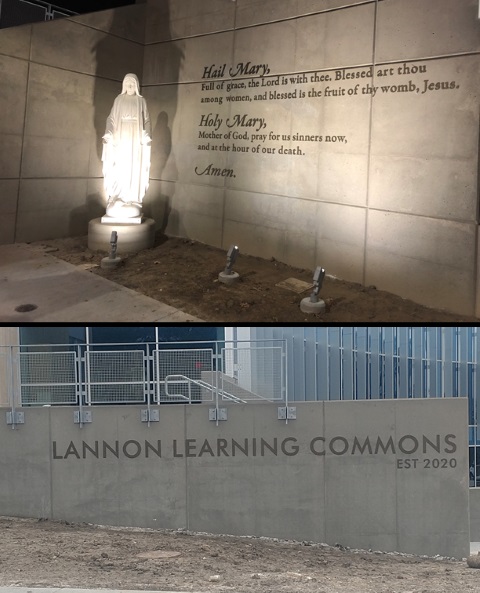 Behind an illuminated life-size statue of Mary, the Mother of God, on the exterior of the building, Signworks installed quarter inch flat cut out, bronze anodized aluminum letters.
We were pleased to be included in this beautiful addition that will welcome and invite young men and their families to Creighton Prep for years to come.
POSTED IN: Exterior, Illuminated, Dimensional, Education