Categories
Archive
8/6/2014
What Makes Us Work: Pam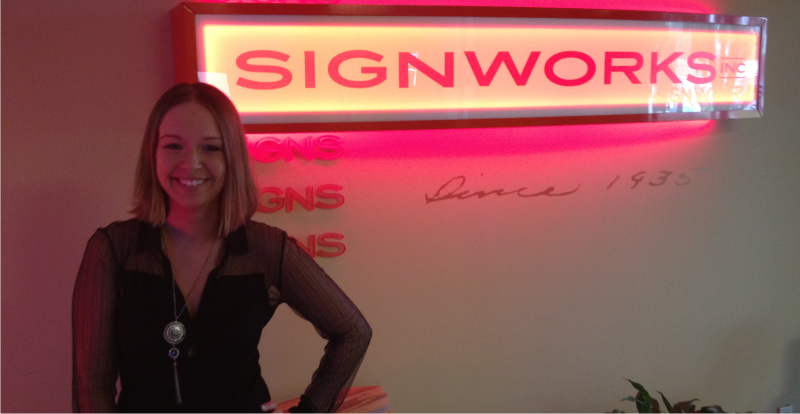 This is Pam Walsh
Pam Walsh has recently joined the Signworks team as a Project Manager. Her duties include coordinating and managing account projects, client relations and assisting the sales team.
Growing up, Pam's bubbly personality, gift of gab, and creativity destined her to travel down the road of journalism and media. She began her career at Waitt Radio as a promotional intern while she was a Junior in high school. One weekend morning during the middle of a snow storm, Pam was quickly told to go on-air to announce the Omaha business closings. This was something she had never done before. After a quick tutorial, she nervously took to the airwaves. "I was completely shocked when they asked me to do it. But everyone else left early, and I was the only one that was around. Despite how nervous I was just thinking about how many people would be listening, I didn't hesitate. You never know what you're capable of until you try. Sometimes in life it's just better to hit the ground running."And just like that, her love for broadcasting was born. She knew that career path was something she had to pursue.
After 5 years as an on-air DJ for the iconic Sweet 98.5 (now Q 98.5) along with Lite 101.9, and after she had earned her Broadcast Journalism degree at UNO, Pam received an opportunity to transition into television. She had taken an internship her senior year at WOWT in the promotions department, which helped get her foot in the door. She was thrilled for the new opportunity. "Television really intrigued me. I wanted to learn more. I loved the fast-paced environment and how each day was different. You really had to think outside the box and be as creative as possible every second you were on the clock. It was no easy task, but I was up for the challenge."
She began her television journey in the news department where she assisted with teleprompter operation, master control duties and running audio for live newscasts. After a few short months, she was promoted to a member of the creative team, where her true passion would end up residing. She held the position of Writer/Producer for 5 years. In her role, Pam shot video, wrote copy, performed voice-overs, and edited commercials for client long forms, web videos, television commercials and radio ads. In addition, she would also assist writing and shooting topicals for nightly newscasts and WOWT community events. "It was during my time in television that my love of broadcasting had evolved into advertising. When I saw the commercials I produced on air, it was an incredible feeling. Bringing the client's vision to life and hearing their thrilled reaction made the experience even more rewarding."
In 2011, Pam decided to take her new found love of advertising from television into an ad agency environment. She worked at two different agencies in town over the course of 3 years where she transitioned from a Writer/Producer into a Project Coordinator/Account Executive. Although she missed the creative side, she really enjoyed bolstering her skill set in client relations. "It is so fulfilling to watch a client's business grow and thrive, and to know that you were a part of that process. I love working on projects from the ground up. To be involved from start to finish and overseeing a concept from scratch is really amazing." Pam has established strong relationships with some big names in Omaha from education and construction, to retail and the arts.
Now Pam has started a new journey in another strong area of advertising; signage. "Although I've only been with Signworks a short time, I already love the work and the wonderful Signworks family. I have found a great new home."
POSTED IN: What Makes Us Work