Categories
Archive
9/12/2013
Since 1935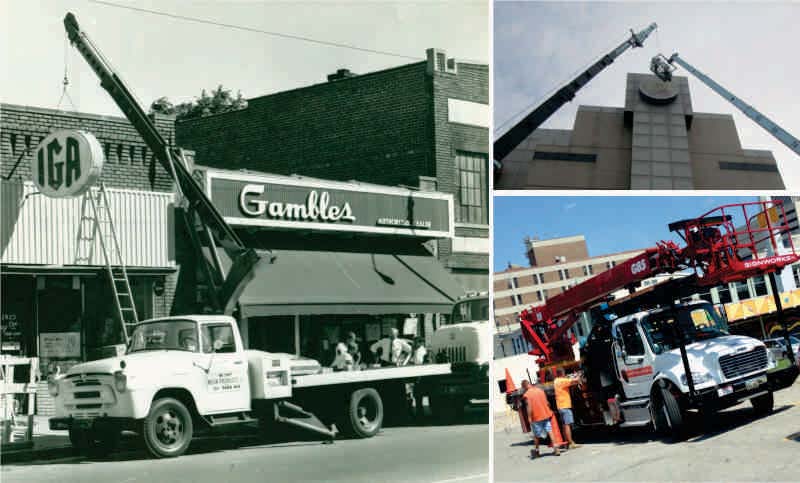 Installation trucks, then and now.
This September we at Signworks, Inc will be celebrating our 78th anniversary. Thank you to Strictly Business Magazine Omaha for this recent article recognizing our anniversary.
Sign Manufacturer Owned by Women for Three Generations and Growing
written by Jim Hoke
Even in today's increasingly diversified business world, a trifecta of female ownership illustrates a great example of hard-willed endurance that would make Rosie the Riveter proud.
What's even more interesting about Signworks, Inc., a company founded in 1935 in the heart of the American Midwest, is that it thrives to this day in an industry—manufacturing—that is traditionally run by men. Of course, like all of us pushing through the wake of the recent recession, Signworks is too focused on running a good business to dwell on their unique status.
After all, this industry is, and always was, second nature to owners and sisters Gaby Ryan and Mikaela Layson, just as it was for their mother before them, their grandmother before that, and their great-grandparents who founded and co-owned the Omaha company, which makes a grand total of four generations of family ownership.
Ask any customer who's walked through the front door since the sisters inherited the business in the '90s: It's obvious that they both work with the professional ease of veterans who live and breathe their trade—and also grew up around it.
These are two executives, both wives and mothers, who are surrounded daily by manufacturing machines the size of small buildings, countless sheets of glass and metal, an in-house industrial paint shack that's two stories high, numerous hoists, shelves of exotic materials, moving equipment, trucks and a bevy of veteran craftsmen who—like the owners themselves—come from a line of family that has worked with the company all the way back to its founding days.
Today, all of this unique history—the operations, products, people and power equipment—have been moved to a new location: A massive workshop the size of two gymnasiums to accommodate signs and lettering that are so colossal at times, they widen the eyes of people who tour the premises.
And while their sales offices in the front are lined with photographs that showcase, if accidentally, a museum-quality history of women leadership in manufacturing ranging from the production of charming WWII-era, all-neon billboards to a modern portfolio of cutting-edge signs from the latest LED revolution, Mrs. Ryan and Mrs. Layson will continue to do what their parents did best: Treat customers and craftsmen like family, respect tradition, but pursue constant innovation to stay ahead of the market and offer future growth.
While the team of sisters running Signworks more heartedly places pride in their signs that are visible on large skyscrapers and small storefronts across the region, maybe it is necessary that we, the readers who work just as hard in our own respective businesses, lift our proverbial welding masks for just a moment to stop and appreciate a fact that's gaining momentum with every decade:
Great service—regardless of industry, age, gender, or generation—speaks for itself.
Does this statement apply to your business?
Contact Signworks today at (402) 346.5447
POSTED IN: In the News