Categories
Archive
7/30/2020
A Home Run at Iowa West Sports Complex
Working with time-tested, local vendors is just one facet of the business that RDG Planning & Design prides itself on. According to Bridget Flaherty, Graphic Designer and Project Coordinator at RDG, Signworks is "always the first one we call," when it comes to signage.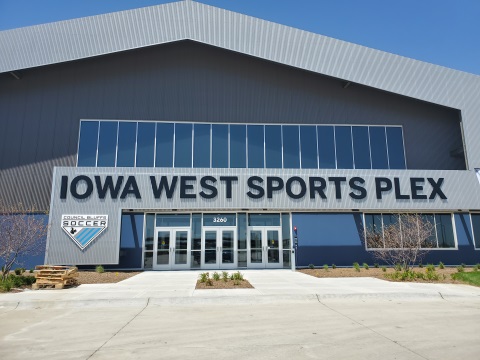 Recently, the firm completed the Iowa West Sports Complex which houses a soccer field, batting cages, and much more for athletes of all ages. Because RDG worked directly with their team of in-house architects, "we knew the story behind the building and the story of why it was designed the way it was," said Flaherty. For a winning combination, RDG chooses to partner with Signworks to make every project unique. Flaherty said, "we just give them the information and they know what to do with it; there isn't a lot of handholding, because they have been in the business for so long they just know what we'd like, so we knew it would be easy to work with them." (This expertise also saves clients' money in the long run, because the design team doesn't have to take the time to direct the fabrication company.)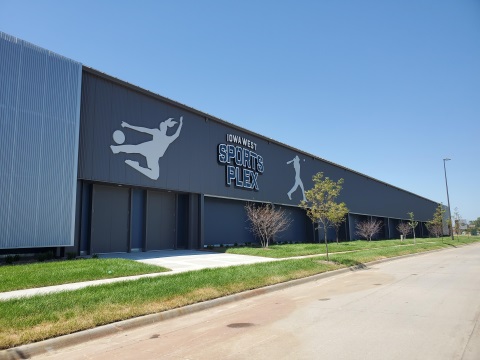 Communication is key when it comes to designing outdoor signage, which is why Flaherty trusted Signworks to make the best recommendations possible for the sports complex. "They take care of all of that and we don't have to," she said, including the thoughtful design of the signage. The Iowa West Sports Complex is located near the interstate, so it needed to be easily visible from far away. Flaherty said, "we were going to spec something that was pretty flat, but Gaby and Signworks recommended doing a 2-inch deep return. I think that was such a lovely solution that they suggested to us. It looks so much better and a little more tailored, and it gives off a nice shadow at the right time of day. That's also nice because they suggest things that would make our work look better, too." With a long history of working side by side, the team at RDG Planning & Design knows they can rely on Signworks' team of expert craftsmen to design an immaculate final product.
POSTED IN: Exterior, Non-Illuminated, Dimensional, Entertainment