Categories
Archive
2/11/2013
Hello Again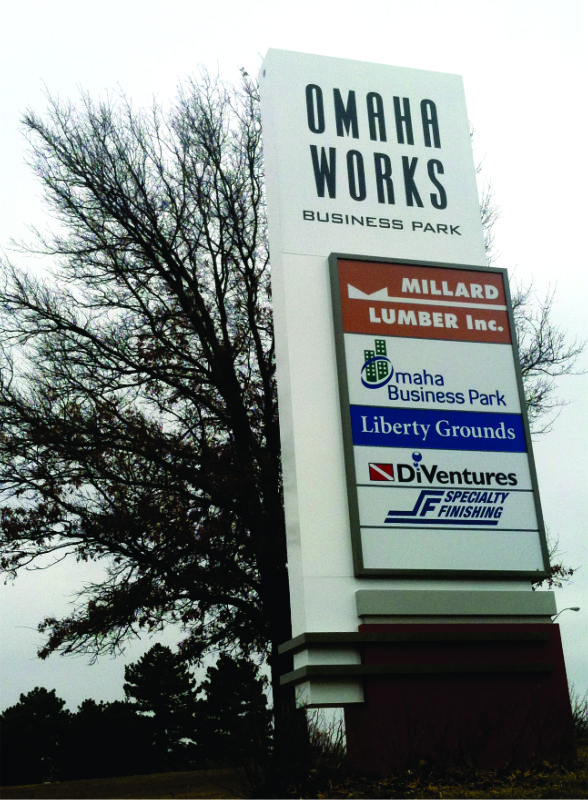 The 132nd Street sign.
Some of us can surely see in our mind's eye the vast green space of the yard that was once Western Electric on L Street between 120th and 132nd. We can recall where we were going or where we had been as we passed that space with the inviting hill of green. That is for those of us who didn't spend our careers within that green space. Their visualization is much more than green space. It is rightly a source of pride and maybe the symbol of Omaha's westward expansion as it employed over 7,500 people and played a legitimate role in founding what we now know as Millard, NE. Not to mention created a community that has consistently striven to maintain the landmark that it is.
In the Fall of 2007 Signworks was called to meet with the board of Omaha Works Business Park and property owners: Millard Lumber, Specialty Finishing, Connectivity. Our assignment was to design a sign package that would identify the property as its own entity, create a wayfinding system and assist in establishing the brand that properly symbolizes the Omaha Works Business Park: a style that would utilize the original building elements including limestone, brick and aluminum.
Signworks collaborated with the property owners' board to create a simple and straightforward sign package. Our goals were to match the building, the budget, work within zoning regulations and create a sign package that would direct and invite people to the property that at one time was managed by security guards. The property is now home to retail companies that rely on the traffic within. The land that's behind L Street Marketplace—the heart of what was once called Western Electric, AT&T, Lucent, Avaya, Connectivity, Commscope and now Omaha Works Business Park.
Omaha Works Business Park Project Manager Rhett Zeplin said "We called in three sign companies capable of this large scale project and challenged them to come back with a strategy that would meet our expectations and fit in with our master plan. Our POA committee determined Signworks understood the needs of the tenants and park. After our group of owners saw the design Signworks created, we were confident they would be able to manufacture an effective sign strategy".
We are proud to work with property owners and leaders like Rhett who work to preserve the integrity of a property's rich and industrious history.

The sign face post-router and pre-paint (left) and again on the trailer headed to the job site for installation (right).
As 4th generation members of this community and business owners with a history of our own, Signworks perceived this project as a personal challenge to not only follow through on the details of the assignment but to respect and pay homage to the heritage of Omaha Works Business Park and its impact on Omaha.
Contact us today at 402-346-5447 and let us help you develop a wayfinding strategy that suits your property or building.