Categories
Archive
7/19/2013
Building Signs in Omaha
These are just a few highlights of the things we've been working on this week.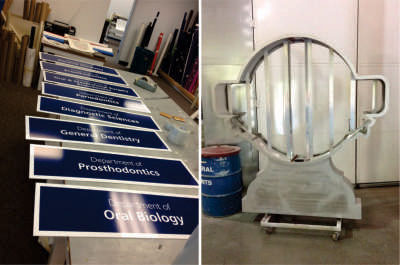 Here are some works in progress as they move around the shop--sintra signs in the vinyl room and a monument sign getting wheeled in to the paint booth.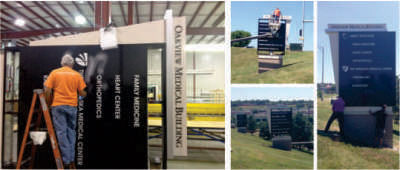 Here is Steve, at left, in our shop installing routed aluminum tenant panels in a 15' tall illuminated Monument Sign for Oakview Medical Building's two new signs that were installed at 144th and Center. At the right you will see our crew installing the signs and Rob Tomanek the salesperson on this project and Jon Bruner, our shop foreman, adding final touches and ensuring everything is operating correctly.

As you make your way around Omaha this weekend and upcoming week keep an eye out for some of our past projects as well-- and remember when you are in the market for quality signs of any kind call on Signworks at 402-346-5447.
Watch upcoming projects as they are built and installed by following us on facebook, twitter and linked in.
POSTED IN: Monument, Healthcare, BSO, Interior, Exterior