Categories
Archive
4/15/2014
Building Signs in Omaha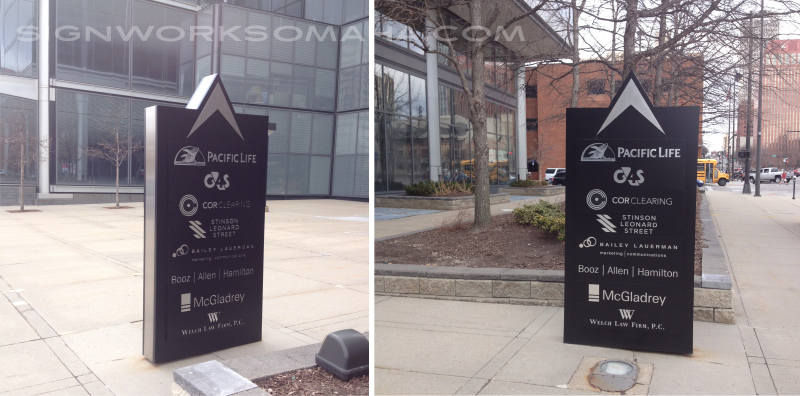 1200 Landmark Center
Signworks recently refurbished this double faced non-illuminated post and panel monument sign in downtown Omaha at 1200 Landmark Center. This sign as well as other directional signs at this location have routed faces backed with brushed aluminum. The design complements the architecture of the building creating visual interest and recognition.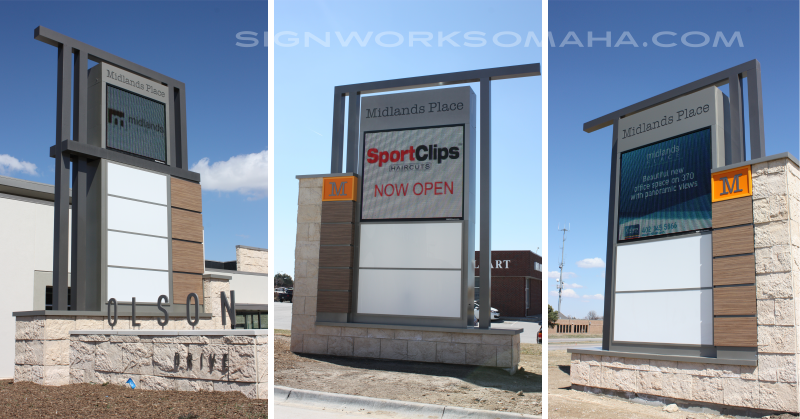 Midlands Place
These beautiful signs were recently installed in Papillion at 84th Street and Highway 370 in this office, retail and lodging development. The signs feature 20mm full color electronic message centers. The letters on the main identification sign are 1" thick plate letters mounted to cultured stone. The cabinets are built from aluminum with letters reverse routed from the faces and backed with acrylic overlaid with black perforated vinyl. The signs also feature cultured stone and square tube aluminum that ties in to the architecture within the development. Congratulations to Midlands Place and Diversified Property Resources, Inc for this vibrant addition to Sarpy County!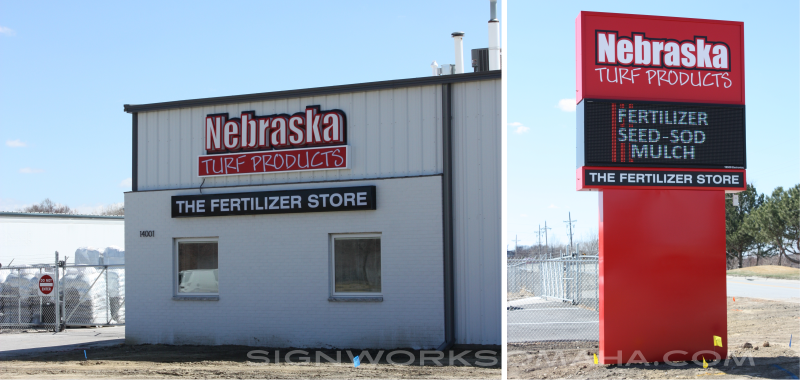 Nebraska Turf Products
This package project at Nebraska Turf Products: The Fertilizer Store near 140th and L Streets features channel letters on a cloud background with internally illuminated wall cabinets. It includes an internally illuminated monument sign with an electronic message center with graphics capabilities. Congratulations to Nebraska Turf Products' on their new location!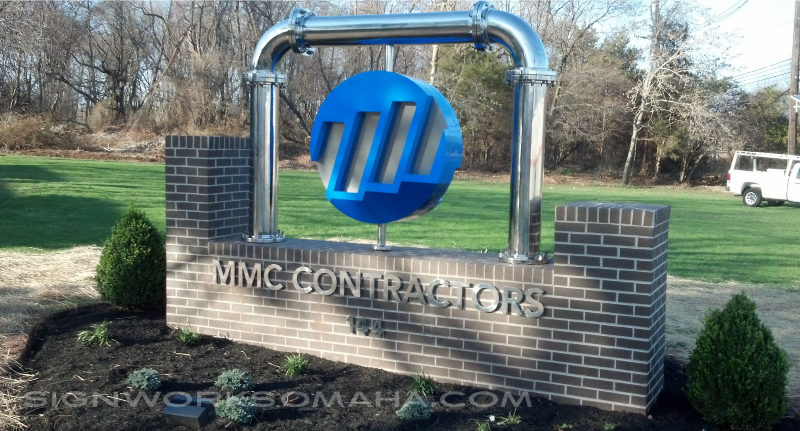 MMC Contractors
This project for MMC Contractors in New Jersey is the third of its kind that Signworks has had the pleasure to complete for various locations throughout the country. The focal point of these signs is the 3'-6" logo cabinet. The cabinet is double faced with 3" deep reverse illuminated channels and 24ga. polished steel laminate that matches the stainless steel polished pipe mounting bar. The address and identification letters are 3/8" thick polished aluminum flat cut metal letters stud mounted to the brick. What makes these signs especially unique for Signworks is coordinating precise fabrication details with onsite contractors and masons to engineer a seamless installation from our offices here in Omaha. We welcome these types of challenges as they give Jeff, Rob and the rest of our team a puzzle to solve!

Premier Family Medicine
These clean and modern letters at Premier Family Medicine are fabricated aluminum letters flush mounted to the building. Their construction allows them to be retrofitted for illumination. The high contrast color palette creates a vibrant and friendly introduction to their beautiful new building located at Midlands Place in Papillion. Congratulations Premier Family Medicine!
Quality Signs of All Kinds
These are just a few of the projects we have been working on at Signworks. We are excited for upcoming projects as well and invite you to contact us today to talk about how we can help create the sign you've envisioned. Call us at 402-346-5447 or email one of our sign specialists today.
POSTED IN: Exterior, Monument, Message Center, Illuminated, Dimensional, Development, Media, Entertainment, Services, BSO