Categories
Archive
11/25/2013
What Makes Us Work: Ric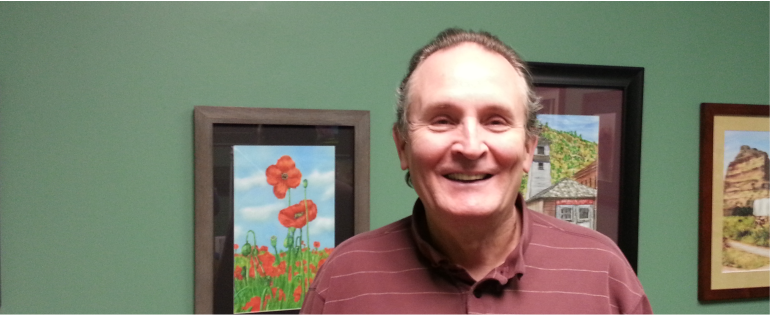 This is Ric Darrell
Ric is a master graphic artist and sign designer, a 30-year veteran at Signworks and a war veteran. With decades of experience in the sign industry, much of it spent pioneering new techniques, his colossal skillset is best symbolized by a Swiss army knife. While Ric has seen the emergence of the modern digital sign revolution and stayed gracefully ahead of it, he also comes from a background painting countless signs by hand. He's seen it all, and he's not afraid of blending modern methods with good old-fashioned hard work.
As a young adult, Ric studied architecture at UNL, joined the Marine Corps and fought overseas. He began his career at Lindell Signs in Ralston, where he learned how to paint signs—and proved that he was a gifted natural—while also learning the historic, high-end sign method known as gold leafing. Unlike traditional artists, Ric's canvases were high above the ground, nearly the size of theater screens, and viewed by commuters instead of museumgoers. One could call him a Monet of marketing designs.
In fact, much of his signs have been so masterfully executed, they probably belong in an art museum.
For instance, he continued to gain a wealth of experience in 1972 as a billboard painter for Imperial Outdoor, where he deftly painted notoriously difficult liquor boards featuring bottles and ice—a massive undertaking of light, shadow and nuances of color—where he'd often work on such a large scale that he'd have to climb down from the scaffolding just to scrutinize his work in progress. Of course, this was just one sign type of many that he worked on. And being ever vigilant, he also built a darkroom system with a projector to make more dependable patterns.
Notable signs include the Commodore billboard, which was a whopping 110 feet near 10th street and the I-480 river bridge, and Cabin Still Liquor near 14th and Cuming.
"We were called wall dogs," Ric said, using an industry slang term describing a whole culture of street artists so versed in their crafts that they, unlike graffitists, could paint signs on building sides and signs legally. In fact, get paid for it. So despite the self-deprecating slang, there's undeniably some majesty in his line of work. After all, everyone in town has read a well-designed, well-placed sign. Not everyone has read a classic novel.
When we brought Ric on at Signworks in 1983, his career found its true footing in a company who matched his level of experience, level of skill and passion for expertise.
He was hired initially for hand painting, plastic painting cut, masking, pounce patterns, clear acrylic masks and other tricks of the trade. He also moved on to do digital print and vinyl.

Among Ric's vast portfolio of work, a great example of the sheer artistic skill that he brought to Signworks would be the side of Omaha's Riley Building—famously known for its hand painted, old-fashioned lettering that reads, "Omaha". The same wall features sheet music that took a month to complete. All of it was Ric's handiwork.
Always pioneering, Ric was instrumental in further building the Signworks reputation. He introduced new technology in the '80s and for decades to follow, never stopped ensuring that we were on the cutting edge. Despite his background in doing things manually, he's a relentless early adapter who never rests on the laurels of old technology. Ric constantly strives to keep us ahead of the curve. He's never afraid of new technology—he embraces it. If it's faster, if it's better, then it's crucial to adopt it. After all, as Ric says, "In signs, you need to get the message across quicker." Especially as attention spans only seem to shorten with each generation.
Among Signworks' many esteemed clients, Ric is proudest of the Henry Doorly Zoo—a client that we continue to work for today—as well as the Joslyn Art Museum, which resulted in the friendship with Omaha's Lee Simmonds, a.k.a. "Doc". Ric also worked on all the Qwest Center's open face neon—miles of neon, to be exact—as well as Omaha's many Baker's locations. Before Baker's, he was coordinating signs for the once-behemoth Hinky Dinky supermarkets.
While Ric has garnered his experience and success here in Nebraska and has been involved in many historically familiar projects, what drives him most is the challenge of every new project that comes his way. Every new logo he designs, every client name he takes to the marketplace where it will be seen by thousands and thousands, is an exhilarating experience.
Today, as he approaches retirement and will be fondly missed by our team, Ric plans to reach a different audience by painting, singing at retirement centers and spending time with grandkids. After all, all artwork aside, living a fulfilling life is an artwork in itself.
POSTED IN: What Makes Us Work