Categories
Archive
3/12/2015
Signworks Client Receives National Recognition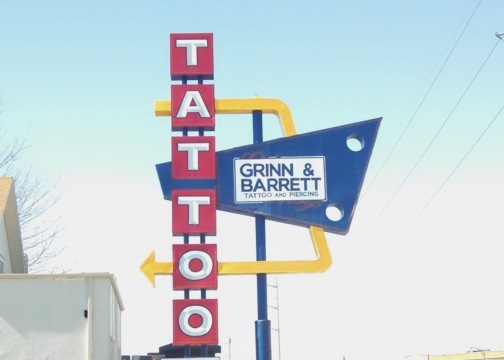 One of Signworks clients was recently featured in the Omaha World Herald and on Omaha.com. Jen Beirola, owner of Grinn and Barrett Tattoo, was named one of the top 5 female tattoo artists in the country from the tattoo site, getbetterlife.com.
Grinn and Barrett Tattoo is located on 3201 Leavenworth Street and Signworks refurbished their exterior sign.
Jen Beirola found an old motel sign from the Circle J. Motel in Villisca, Iowa at a local salvage yard and hired Signworks to bring her sign vision to life.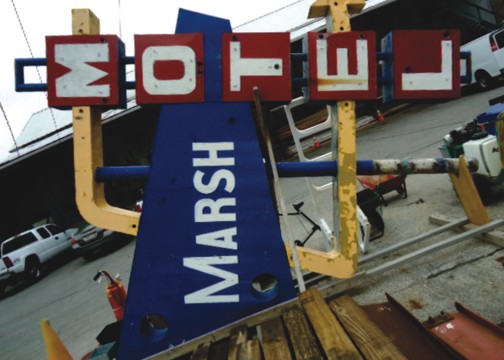 The world 'tattoo'--having one more letter than 'motel'-required the sign to be retro-fitted by adding a new cabinet with matching specifications. Signworks helped refurbish the sign by furnishing new neon, securing permits with the City of Omaha's Planning Department and installing it.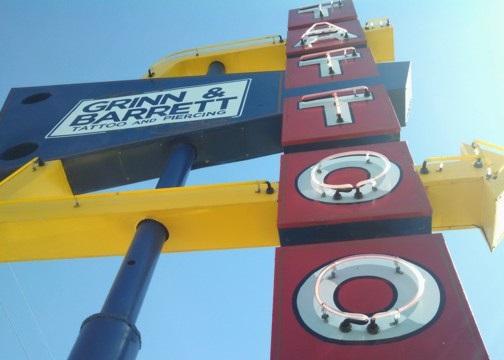 Signworks is excited that Grinn and Barrett Tattoo was nationally recognized for their hard work and unique designs. For the entire story, visit:
http://www.omaha.com/go/omaha-tattoo-artist-named-one-of-the-top-in-the/article_66fbc1b4-c733-11e4-8d3c-8f0e230f8aee.html
If you're looking for a custom neon sign or have a one-of-a-kind idea that you want to be brought to life, call the Signworks sales team today at 402-346-5447.
POSTED IN: Services, In the News, Restoration, Neon