Categories
Archive
6/29/2020
JM Online- Standing Out in the Downtown Crowd
Amidst the hustle and bustle of downtown Omaha, it is essential for businesses to stand out in every way they can. That is why when JM Online decided to redo their signage and boost their curb appeal, owner Jonathan Patton decided to put his trust in Signworks to bring his vision to life.
Like Signworks, JM Online has an established reputation in the community, but wanted to modernize their logo after 22 years in business to showcase that the company is changing, growing, and modernizing to offer a range of sophisticated services including web design, development, and marketing strategies. "We make sure that our customers' online presence is up to date, " said Patton, "that it's got that curb appeal (which is interesting to even say with a website), but it's the same concept; it's just a digital space." When the digital agency realized that they, too, needed a refresh that would make an impact on the downtown area, they were spurred into calling Gaby Ryan and the team at Signworks.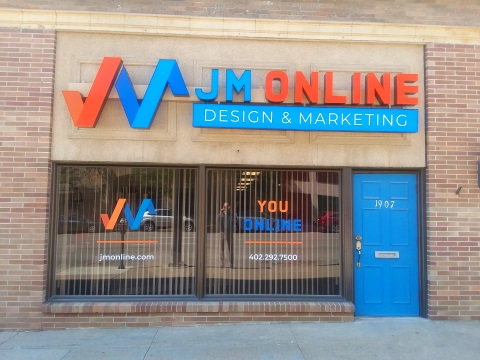 To highlight their new branding, JM Online and Signworks opted for a lighted, modern design to showcase a vibrant blue and orange logo. Not only did the team at Signworks make the process easy; according to Patton, who had never been through the process personally, "I had no idea what to expect. I just know anytime you're dealing with design across a different channel or avenue of design, it can usually be tricky." However, Ryan was able to walk around JM Online's office space, get a feel for their culture, took their artwork back to Signworks' in-house designer, and came back with a proposal for Patton to review. When Patton first saw the design, he said, "I was blown away. It was cutting edge, it felt good, it lined up everything. So, for me, it was really encouraging; it was a great synergy."
When JM Online needed a boost of curb appeal, Signworks made the process as seamless and simple as possible from start to finish. Patton trusted Ryan and the team at Signworks with their design because of their longstanding experience and mutual trust working with one another. Visit www.signworksomaha.com today to see how Signworks can boost your curb appeal!
For ore information about JM Online, visit www.jmwebdesigns.com.
POSTED IN: Channel, Exterior, Illuminated