Categories
Archive
4/19/2013
Reclaimed Trees used for Main Identity Sign
Some of Nebraska and Iowa's oldest Cottonwood trees align the Shoreline Golf Course in Carter Lake, IA scenically located just minutes from downtown Omaha. Over time some branches from these historic and symbolic trees have fallen by way of wind and storms.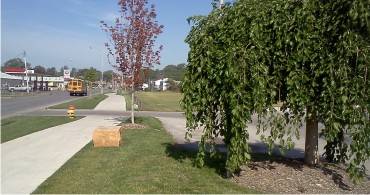 Shoreline Golf Course sign location before
From the Course to the Curb
When Brandon Dougherty, General Manager of Shoreline Golf Course, was in the market for a new main identity sign it made sense to tie in these tree remnants to symbolize their majestic beauty found on the course itself. Through a Google search, Mr. Dougherty found Signworks and was put in contact with Rob Tomanek, Sales Executive. After describing his vision for the signs, comparing quotes and concepts from various local sign companies, Shoreline Golf Course chose Signworks to manufacture this project.
Vision to Reality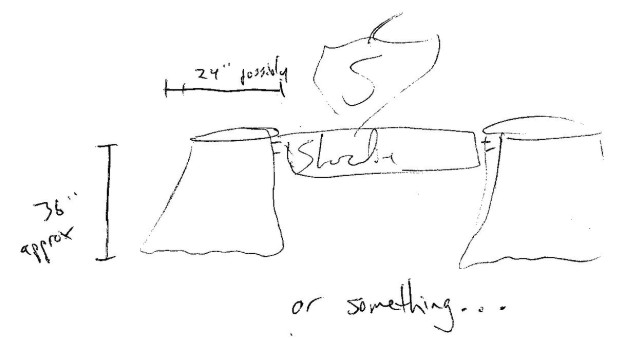 Conceptual sketch
Rob talked to Mr. Dougherty regarding his vision, surveyed the property and put together a rough sketch based from their conversation then brought the concept to the design team at Signworks for budget-conscious conceptual drawings.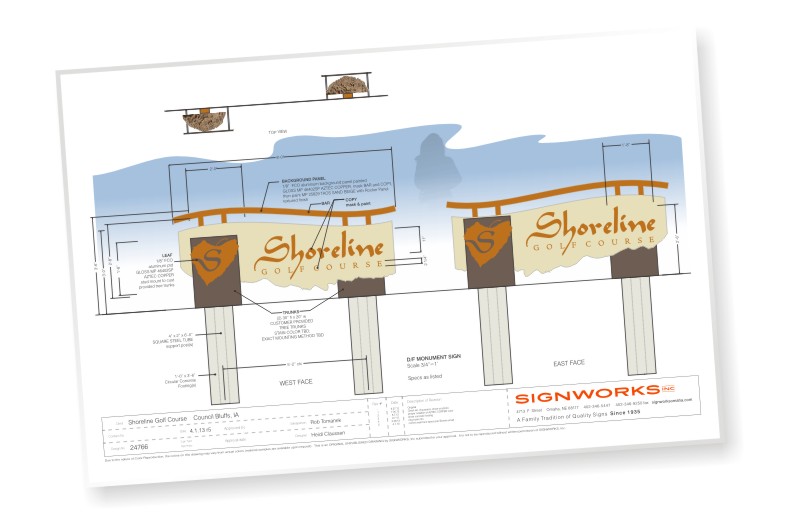 Final drawing for production
After the concepts were revised and approved the project moved to production. Two large sections of a cottonwood tree were brought to the Signworks shop where they were stripped, sanded and fitted with mounting brackets. The waterjet cut aluminum sign and tree sections were then installed on-site.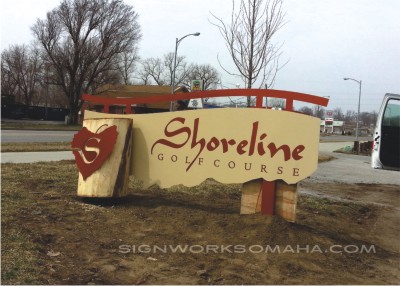 Main Identity Sign at Shoreline Golf Course, Carter Lake, IA
As the cottonwood trunks age and the area around the sign is landscaped this sign will be an integral part of the surrounding landscape and bring inviting and relevant curb appeal to Shoreline Golf Course.
Incorporating the Landscape
"Rob and his team understood what we were looking for better than anyone else, they understood what we were trying to accomplish by incorporating part of our landscape and cottonwoods in the sign. He came back with exactly what we were hoping to see at a very fair and reasonable cost. – they manufactured an unbelievable sign. The most creative and most cost effective and it fits the facility quite nicely" said Brandon Dougherty.
Carter Lake has done an exceptional job with their recent revitalization projects and Signworks is proud to be a part of their growth with specialty jobs such as this and others.
Call Signworks today at 402.346.5447
To make your creative and specific sign vision a reality email or call Signworks today at 402-346-5447. Signworks has been designing, manufacturing and installing quality signs of all kinds since 1935.
POSTED IN: Monument, Entertainment, Exterior