Categories
Archive
11/11/2016
Building Signs in Omaha
E & A CONSULTING GROUP, INC.
E & A Consulting Group's building, at 10900 Mill Valley Rd., is fortunate to have great visibility from the heavily trafficked Dodge Express way. When operating a business, it's important to think about the people who drive by every day and how to get them to notice you. E & A Consulting Group reached out to Signworks with that same vision in mind looking for engaging signage on their southwest elevation.
We fabricated (1) set of 1'-3'' high x 20'-1-'' wide "E & A Consulting Group, Inc." and 1'-1 1/2'' high x 14'-5'' wide "Engineering Answers" LED illuminated channel letters ona raceway.
We also fabricated (1) 3'-7 1/4'' high x 8'-8 1/4'' wide LED illuminated channel logo with 1'-1 3/4'' "e and a" channel letters on a raceway.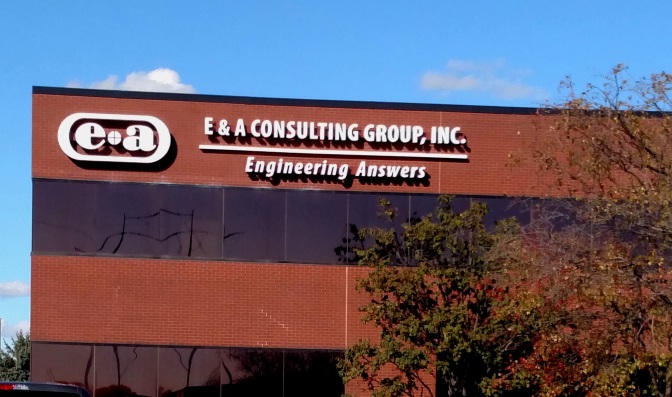 JULIE HOCKNEY INTERIOR DESIGN STUDIO

There are endless possibilities for signage, which makes the initial design process so much fun. Even if you don't want to make a huge statement, there are subtle ways your sign can stand out from the rest.
If you're looking for more of a simple look, you can always add a unique twist like we did for the Julie Hockney Interior Design Studio signage.
The studio recently moved locations and is now at 721 N. 98th St. in Clocktower Village.
We fabricated (1) set of 4'-6'' high x 2'-10 3/4'' wide "jh" aluminum LED illuminated cursive channel letters.
We also fabricated (1) "Interior Design Studio" LED illuminated cabinet with vinyl overlay.
The cursive letters sitting on top of the right justified cabinet add a very distinct touch to Julie Hockney's space.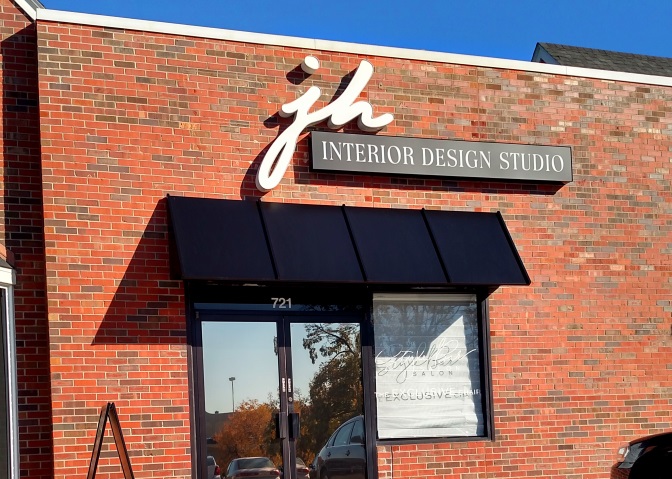 To make the studio location pop even more, we also added a 12'-0'' wide x 2'-6'' high angled metal awning.

LINDLEY CLOTHING
If you're not in the market for a brand new sign, we can certainly transform an existing sign by refurbishing it like we did for Lindley Clothing, located at 707 N. 132nd St.
The existinc channel letters were removed and brought to out shop. We made new faces and applied perforated vinyl to them, along with removing the existing neon and transformers. We then installed new white LEDs and power supplies, and re-installed.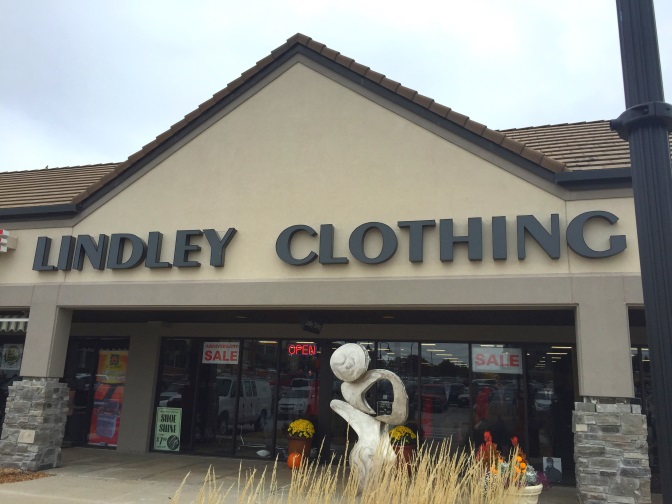 ENDEVEREN FAMILY MEDICINE & ST. VINCENT de PAUL
Exterior building signs aren't the only thing that can draw customers into your business. You can be just as creative with tenant monument signs.
We recently made and applied vinyl for Endeveren Family, at 3015 N. 90th, and St. Vincent de Paul Thrift Store at 807 Tara Plaza. Endeveren used a very unique font and St. Vincent de Paul chose vibrant colors and logos to stand out.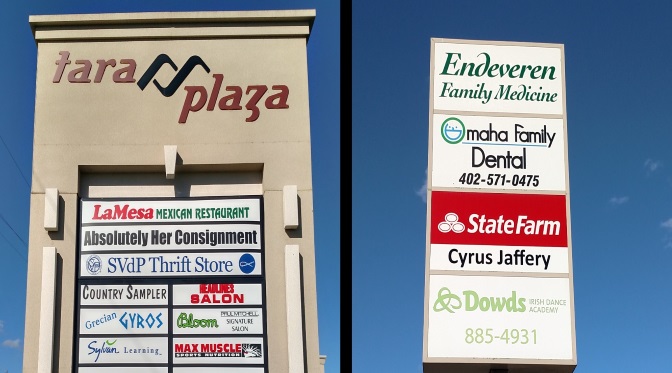 If you're looking for a new sign, tenant vinyl or a sign refurbishment, call our sales team today at 402-346-5447.
POSTED IN: BSO