Categories
Archive
6/29/2016
The Importance of Brand Consistency
If you own a business with multiple locations, brand consistency is key. Each site should reflect the same look and feel faining customer familiarity.
When businesses open more than one location over several year's time, their opinion on branding can change. They may decide to update their logo, font style or color scheme years down the road for their upcoming location but keep what they already have at their existing location. This causes consumers to disconnect with the company.
One recent example of keeping branding on-point is Storage Mart, which has three metro locations including 10921 Sapp Brothers Drove, 9815 Redick Circle, and 10010 Scott Circle.
Storage Mart is keeping their brand consistent across the board along with their type of signage. Each building displays illuminated channel letters on a raceway and door vinyl. At the locations that offer illuminated pole signs, the flex face material is the same along with their vinyl logo.
We fabricated and installed these signs for each Storage Mart in the area.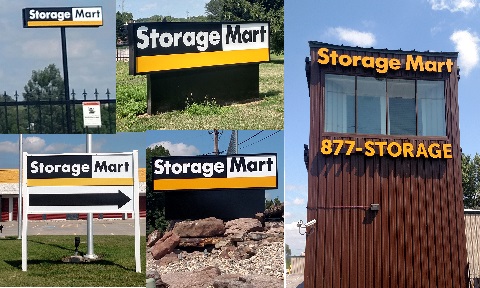 Signworks would love to grow and evolve with your company. If you have a business looking to expand or already have multiple locations and need updated signage, call our sales team today at 402-346-5447.
POSTED IN: Channel, Exterior, Illuminated, Services, Vinyl