Categories
Archive
11/2/2016
Consistent Sign Branding at Marian High School
Brand consistency is an integral part of business. Consistency makes your brand feel more dependable and recognizable. This holds true on many platforms including social media accounts, websites, illustration pieces and, of course, signage.
Marian High School, founded in 1955, has made an extraordinary name for itself in higher education in the Omaha area.
More recently, the high school was looking to re-brand. Rochelle Rohlfs, Marian High School's Athletic Director/Assistant Principal, and her team entrusted Signworks for this detailed project.
"We really enjoyed working with Gaby and her team," Rohlfs said, "They listened to our needs and came up with effective solutions."
Throughout the high school, old signage was removed and brand new signage was fabricated and installed to showcase Marian's new look and feel.
The latest additions to the Marian campus are two 12'-0'' high x 14'-3'' wide double-face non-illuminted monument signs at their main entrance. Each sign has a fabricated cabinet and bulletin panel with flat cut out letters, logos, and crosses on a brick base.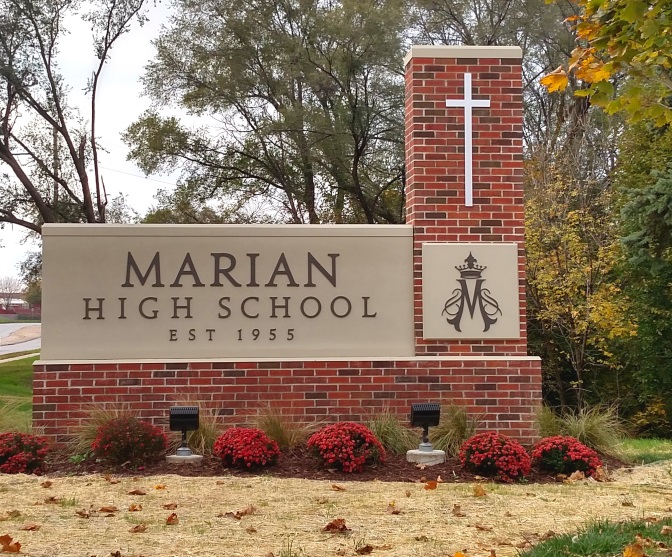 Signworks also removed the existing Marian letters on the exterior and furnished various sets of 1/2'' plate aluminum letter M's and crown logos, and fabricated 1'' aluminum "Marian" letters stud-mounted to the building exterior on the west and north elevations.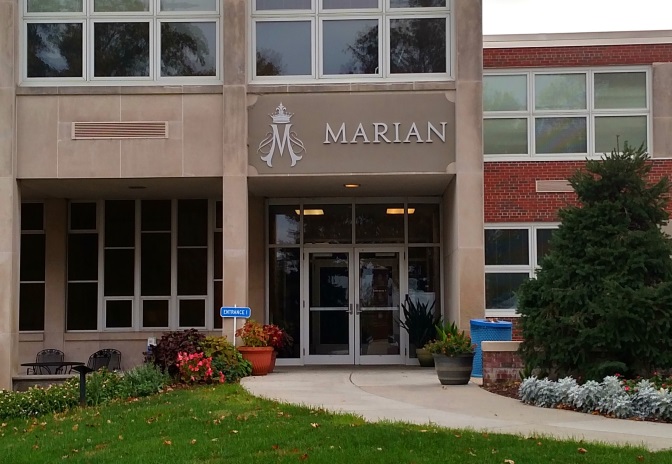 Another unique sign addition is located at their west elevation. Entitled, "Followed Dreams", the stainless steel stars were designed by local artist John Cabja and fabricated by Zahner Design in Kansas City. Signworks provided the installation and also furnished a stainless steel etched plaque affixed to the lower part of the wall detailing this one of a kind piece of art.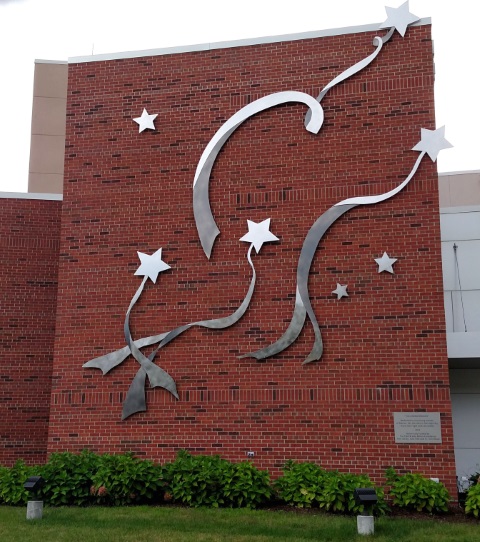 "We were very impressed with the guys that did our installation, very professional," Rohlfs said.
In addition to their exterior signs, Signworks also designed and installed various 1/4'' thick acrylic directionals with graphic overlay throughout the school's interior.
"We have received a lot of compliments on our new signs," Rohlfs said, "Seems like we are branded a lot better now."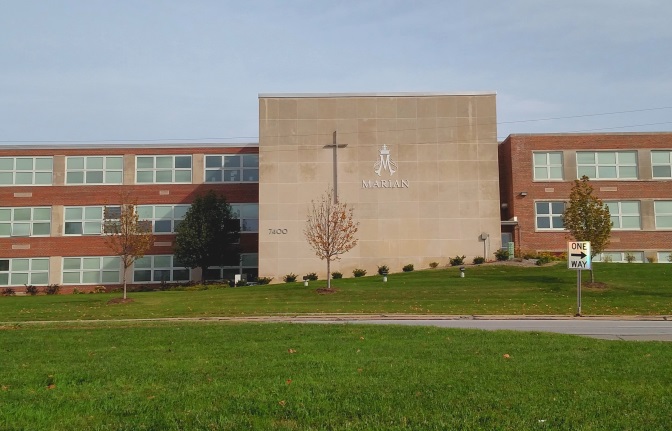 If you're looking for a brand overhaul or new signage for your business, call our sales team today. We're eager to bring your signage visions to life.
POSTED IN: Dimensional, Education, Exterior, Interior, Monument, Non-Illuminated