Categories
Archive
5/31/2019
Signworks Connects with Completely Kids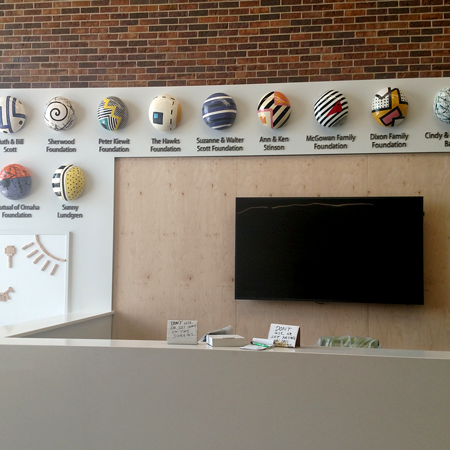 Completely Kids, an Omaha organization dedicated to serving youth in the community, recently celebrated the completion of a $11.3 million expansion project. A ribbon cutting event was held on May 15 and donors, partners and community members were invited to celebrate the completed expansion.
Signworks Inc. was honored to be invited to assist with the expansion project by designing, creating and installing signage throughout the facility. We created donor signage and room names in the existing and newly created spaces, using vinyl graphics on glass and drywall, as well as flat cut-out letters.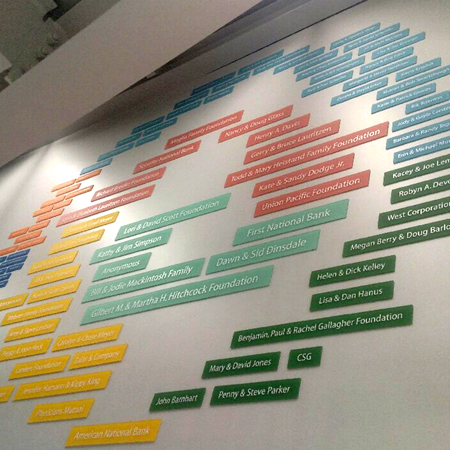 The organization wanted to recognize community donors who contributed to the expansion project in a special way. They partnered with artist Iggy Sumnik to create individual jelly bean artwork as a commemorative gift to the donors. Each unique piece was designed by the artist and we created coordinated signage to recognize the individuals or companies. Sumnik, who studied under local artist June Kaneko, is gaining notoriety for his unique work, and this project marked the first time his work was paired with donors in this way. The result is a beautiful wall that serves as a focal piece in the building.
Signworks Inc. is grateful for the opportunity to collaborate with Sumnik on this project, as well as local architects from TACK Architects.
Our involvement with the Completely Kids project lasted about five months from start to finish. The staff is hard-working, and each one of them was friendly, easy to work with and gracious. The organization has operated under various names since they began serving the Omaha community in the 1920's, and they provide incredible services to youth in our community through art, education, building community and serving children.
Visit their website to learn more about the work they do and the impact Completely Kids has on the Omaha community.
POSTED IN: In the News