Categories
Archive
3/9/2023
Bold Office Solutions Rebrand Signage
Bold Office Solutions recently relocated to downtown Omaha. The new office features a beautiful new showroom and a convenient location.
Bold underwent a rebrand in conjunction with the relocation, including an updated logo. Signworks collaborated with the Bold team to create an interior sign of the new logo, welcoming guests and visitors to their showroom.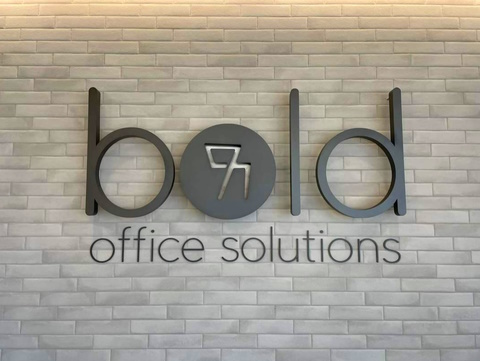 The sign is made from aluminum letters, mounted on standoffs to accentuate the "Bold" part of the logo. The chair cut-out in the "O" is a great accent, and the dark nickel metallic paint is a nice contrast to the white tile wall behind it.
A logo says so much about a company, and with a name like Bold, the logo and sign should be strong and stand out. We think this sign is just perfect, and we enjoyed the opportunity to collaborate with Bold Office Solutions.
POSTED IN: Interior, Flat Cut Outs, Non-Illuminated