Categories
Archive
6/28/2018
Business is important — family comes first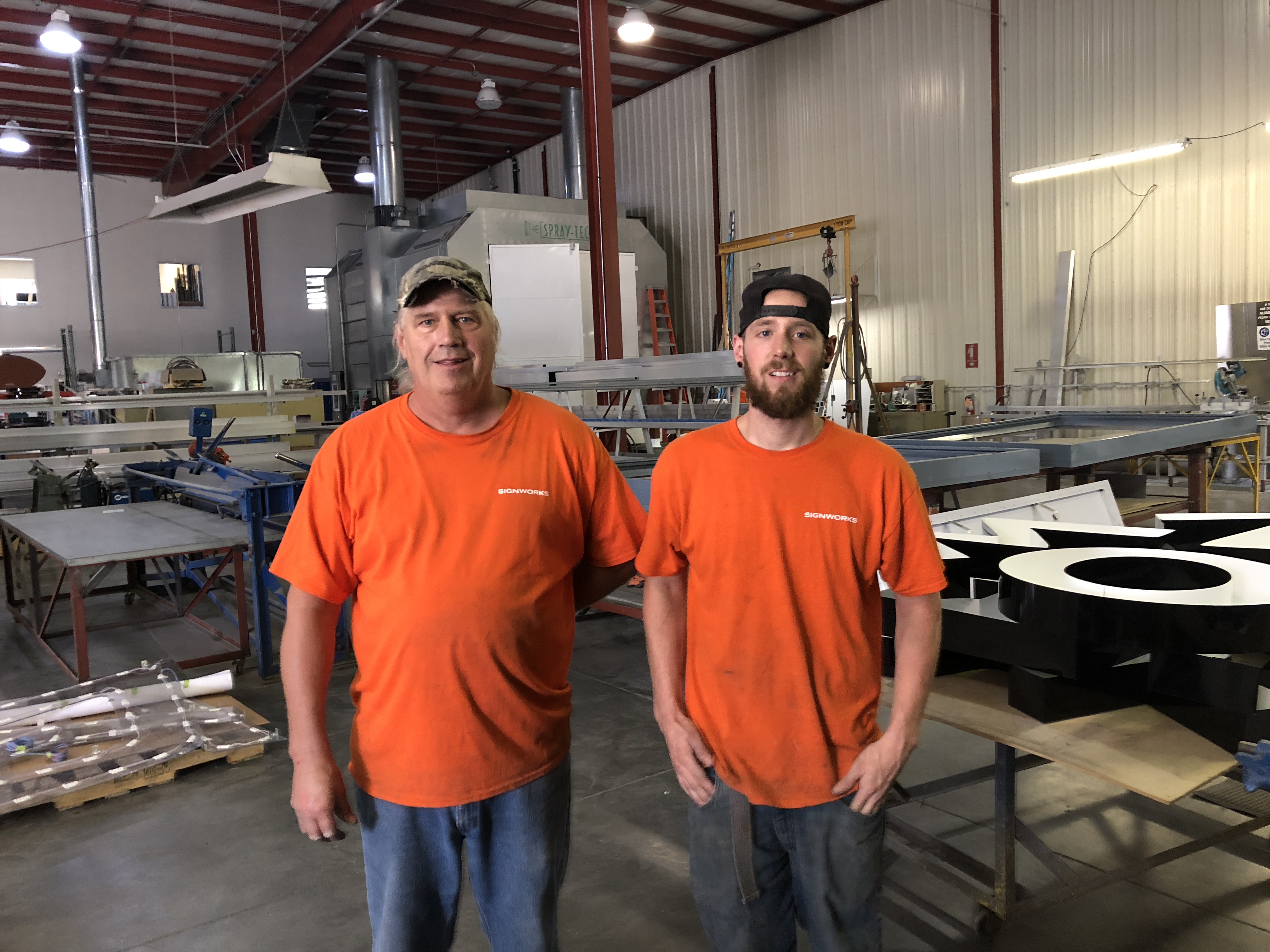 Signworks Inc., founded in 1935, is a fourth-generation, family-owned business. The company was founded on one principle – Business is important – family comes first. We value a work/life balance, and we treat our employees like family. And for some of our employees, that holds a special meaning.
In addition to our own family, Signworks Inc. has employed multiple family duos over the decades. Today, we have two father/son pairs on our team.
Brad joined the Signworks team about ten years ago, and his son Bobby was hired about five years ago. Dennis has been a tinner and sign artist at Signworks since 1999, and his son Brett joined the team in January. All are grateful for the opportunity to work together and learn from each other.
Dennis was eager to have Brett join Signworks when he was looking for a new job because he saw it as an opportunity to continue teaching his son. He believes Brett will be a great part of the Signworks team because he's responsible and wants to learn.
"In some ways, it's easier to teach your own son because it's a continuation of when he was a kid," said Dennis. "This is a great company to work for because people trust you here, and it's even better because I can spend more time with Brett."
Brett enjoys working with his hands and loves the feeling of accomplishment when a project is completed. He's looking forward to a long career at Signworks, and working with his dad and learning from him make the job even better.
"My dad is a great teacher," said Brett. "I enjoy learning from him, and he's teaching me a lot of life skills along the way."
When the father/son team isn't working together, they enjoy camping and fishing together. Dennis and his father, Brett's grandfather, both own a state record for fishing – Dennis for a river carp sucker, and his father for a quillback – and he enjoys teasing Brett about getting a record of his own some day.
Bobby never thought he would end up working with his dad, but he is grateful for the opportunity. While they don't work as closely together – his dad Brad is a service tech and Bobby is a sign builder – they do enjoy the time they are on service calls together.
Company owners and sisters, Gaby Ryan and Mikaela Layson value working together and are pleased to provide the same opportunity for other families.
"Working together with family is rare gift," said Mikaela. "And as an employer, we can trust that a son will generally be as dedicated as their dad, and there is an extra layer of trust because they don't want to let their dad down!"
POSTED IN: Family Owned