Categories
Archive
12/11/2017
Signworks Assists Revival of Business After Fire
Shortly after Heafey Hoffman Dworak Cutler Mortuary was tragically destroyed in a fire in January 2016, Funeral Director-Bill Cutler-called us to help. In the short term, the mortuary continued operations through their other locations in town, but reassured the community that the mortuary fully functioning was a priority for the company.
FInding a temporary location that could help the mortuary operate at full capacity was their primary goal. They secured the former Richmond Gordman headquarters at 120th & Center St. to continue business while a permanent plan was developed. The building had been vacated when the retailer relocated its headquarters to Aksarben. We immediately began working together with Bill Cutler and his team to create two outdoor signs to identify the temporary location.
Heafey Hoffman Dworak and Cutler felt a sense of urgency to return to full capacity as soon as possible in order to continue serving the Omaha community. Outdoor signage was identified as a key piece in reassuring the community that the mortuary was still operating and available to help families in their time of need.
Eventually a plan was developed for the mortuary to return to its original location at 84th and Center St. As demolition of the destroyed building began, we removed the original monuments that had identified the mortuary since they opened at that location, and stored them in our facility. Signworks originally created the monument sign in 1980 when the company opened there.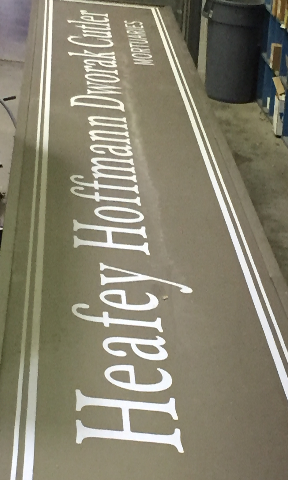 The architecture and design of the rebuilt mortuary reflect a more modern concept than the previous building, so returning the original monument was not included in the plans. We designed a permanent monument to compliment the mortuary's updated look. Discsussions are underway about the possibility of incorporating the original sign into the new space.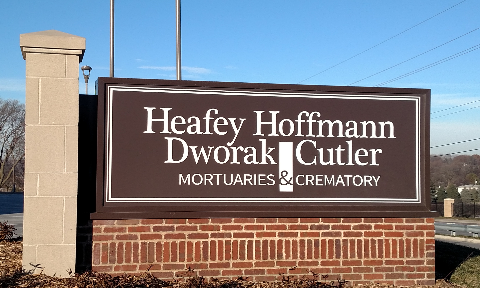 As construction began on the interior of the mortuary, we worked closely with the architect to create a strategy for interior signage throughout the building. The result is a cohesive signage strategy that reflects the updated design of the mortuary.
Construction on the new Heafey Hoffman Dworak and Cutler finished in the fall of 2017, and the mortuary has returned to full operation in the new building at 78th and Center.
Signworks has a long history working with the mortuary, dating back to when our grandmother-Elizabeth Aust-worked with the Heafey family, circa 1960's. It was an honor for us to be called to help them transition through an extremely difficult event for their business.
If you're a new business or a well-established one that is looking to partner with a quality, family-owned sign company, Signworks would be honored to be there for you. Call our sales team today at 402-346-5447.
POSTED IN: Monument, Illuminated, In the News, Exterior, Personal