Categories
Archive
9/28/2022
The impact of a great sign
This is why we love our jobs at Signworks, this project proves the impact of a sign.
Greetings! from Sal U. Tation, the newest resident of Omaha's Millwork Commons. Sal U. Tation sits on top of the Hello Apartment in the Makerhood District in northeast Omaha, the newest hotspot for Omaha living, dining, shopping, and creativity.
And if Sal is anything, he's creative! Sal's lovable yellow face peers over the edge of the Hello Apartments building, above a simple, welcoming "hi." Who wouldn't want to check out apartment living in this building!?
This signage for the Hello Apartments was a collaborative effort with some of Omaha's most creative people. The idea started with the building's developer Christian Christiansen at Bluestone Development. Christian is always involved with creative, cutting-edge ideas that makes his properties stand out and rise above.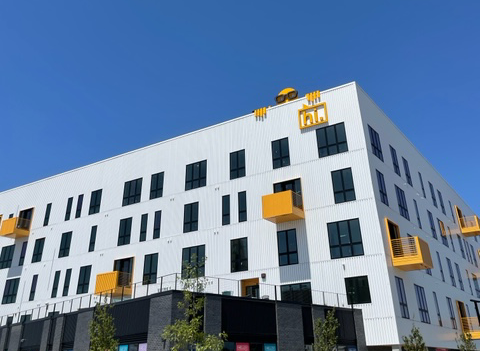 Megan Lutz from Alley Poyner is responsible for the creation of Sal's look and image. Greg Daake created the brand and concept that brings to life an inanimate object and give the entire building its own voice. Interior signage was created to look like voice boxes – Sal's voice – throughoutthe building. (Insert photo from website).
"I've worked on several projects with Christian at Bluestone, Alley Poyner, and Signworks, and it is a wonderful experience when developers, designers, and signmakers can come together and produce a once-in-a-decade concept like this," said Daake. "We chose yellow for Sal, the fun little fella hanging off the parapet of the building, because of its warmth and optimism. He's there is share a welcoming 'hello' to the Millworks area."
At Signworks, we believe signs can be so much more than words and letters – they can say a lot about a place and can do so much to welcome customers and earn their business. Thank you to trusted and creative partners on this project – Bluestone Development, Daake Design, and Alley Poyner. Together we make Omaha look good.
POSTED IN: Apartments, Exterior